KELCH kOne
Ready for Industry 4.0:
Integration into automated processes and
networked production systems
Quickly and precisely measure of the tools
Users create comfortable, quickly and precisely their own measuring programs without any programming knowledge, with the system offering a range of state-of-the-art communication methods, including simple file transfer, direct database connection, web services, RFID technology and QR codes. It is integrated into networked production systems and enables the KELCH system to communicate with external applications, including tool management systems, CAM systems, machine tools, issuing systems or even entire master control systems. Customised adaptations are possible, on request, thanks to the modular and extendible structure of the software.
KELCH kOne
file transfer
direct database connection
web services
RFID technology
QR codes
On request, customised adaptations are possible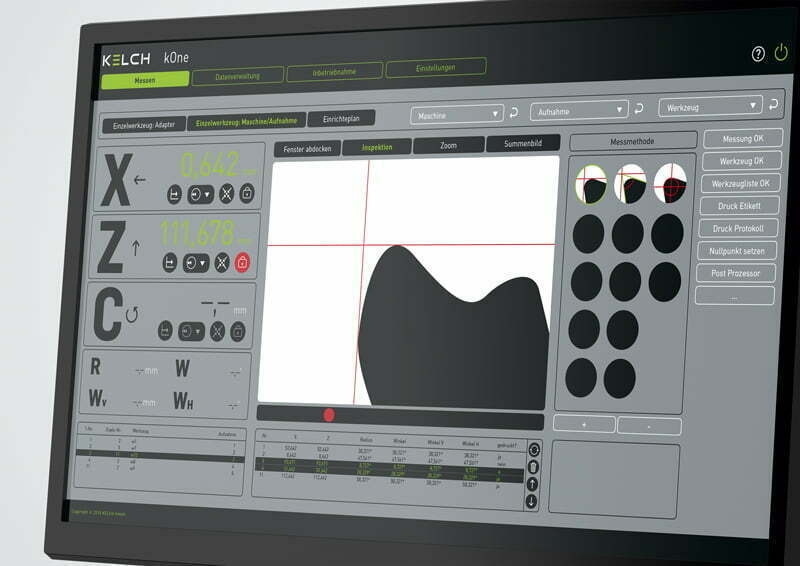 KELCH CoVis
---
The new kOne software:
Intuitively simple and everything at a glance!
Measuring side
All functions at a glance and, on the measuring side, the user is clearly provided with all the information he needs. The tool to be measured is displayed, the necessary measurements are arranged in a table and the traffic light colours signal whether the measurement is inside or outside the tolerances. Yellow signals a measurement still to be performed. All measurements are performed with a minimum of different measuring functions. The priority is definitively ease of operation.
Measuring
kOne is quick and simple when measuring multi-edged tools when control of run-out and axial run-out is crucial. The X and Z-axes appear in a bar diagram. By displaying tolerance fields it is possible to visually detect and cuts that project beyond. In the event of an incorrect measurement, the measurement can be simply repeated and corrected at any cut.