KENOVA set line V6xx
The new compact premium tool presetter for
maximum precision in the most compact spaces.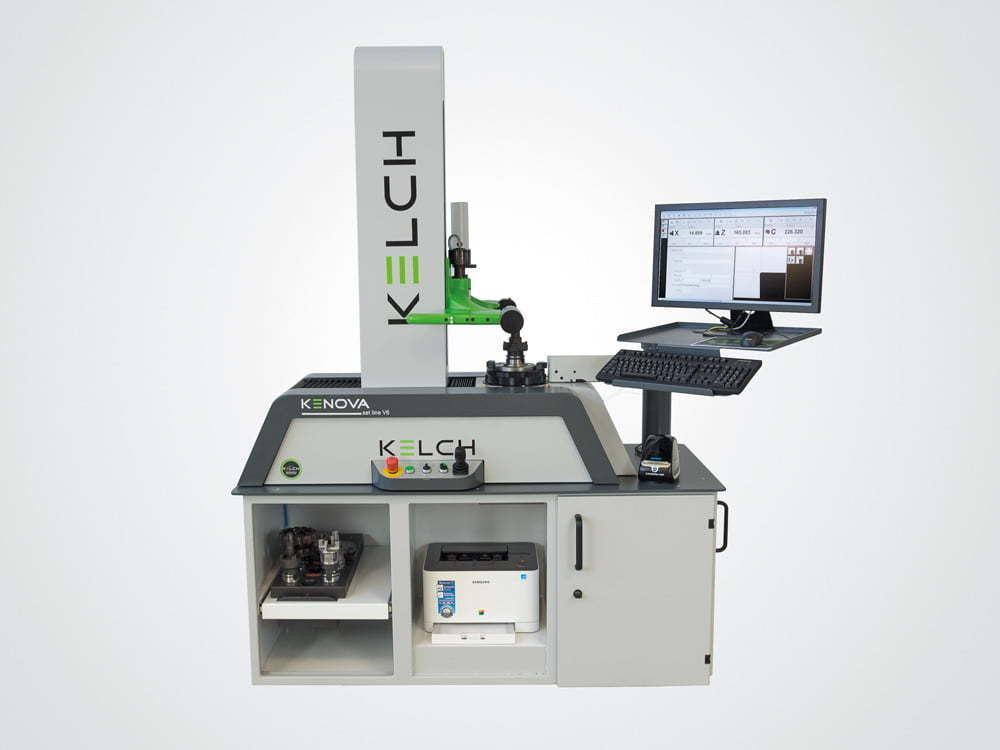 The KENOVA set line V6 series guarantees fast, easy and precise measurements coupled with maximum possible process reliability
from patented systems.
The compact PREMIUM line system can be integrated very easily
into an ergonomic workplace design, leaving plenty of space for
tools and materials.
Technical Data
Construction:
· Compact grey cast iron design for
use in the most confined spaces.
· WxDxH (mm):
1166 x 630 x 1419 mm
(where Z = 600 mm)


Positioning:
· Convenient positioning of the axes by pneumatically released quick adjustment mechanism.
Additional motorised joystick adjustment/fine adjustment of the 3 axes.
· Available in three versions:
Manual, Autofocus, Fully CNC


Tool holder:
· Modular precision spindle for holding various SK, HSK, PSC, VDI etc. inserts with mechanical clamping and braking to fix them in any position.


Cutting edge scanning:
· CCD camera with telecentric lens and top light
· Optional: optical turning centre measuring equipment
· S-camera for tool grinders
· Probe for cutting edges difficult to access
· CCD camera with precise optics and lighting for repeatability of ± 2 μm.


Electronic measurement equipment:
· PC electronics with intelligent image processing
· 24" TFT monitor, 10" monitor on camera carrier (optional)


Measuring ranges:
· X = -50 mm bis 430 mm (ø)
· X = Extendible to -100 mm
· Z = 600 / 800 / 1000 mm



Aufstellmaße
Modular precision spindle the most stable and
precise tool holder spindle.
Control panel with joystick to move the CNC axes.
Optics carrier including CCD camera and pneumatic
quick adjustment. Optional laser pointer for
detection of the cutting edge.
MoDeTec
Optional patented MoDeTec module monitoring system.
EASY software intuitively operated.
Optional additional tool monitor.