With our world-wide field service support we are always at your service.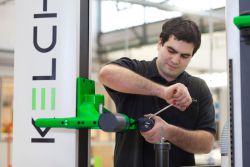 To remain flexible we have the following offer for our customers: We offer you the possibility to have your devices or also components of your devices (e.g. your PC) repaired quickly in-house. You save travelling costs or double journeys, if the error cannot be resolved immediately. We can also organize the collection, if necessary within two hours, as well as the return
delivery for you.
You will find more information on this topic as well as further service offers
using the following link.