Safety has got a name – The KELCH Warranty
In short: KELCH offers its customers a comprehensive warranty – which is much more than a quality promise.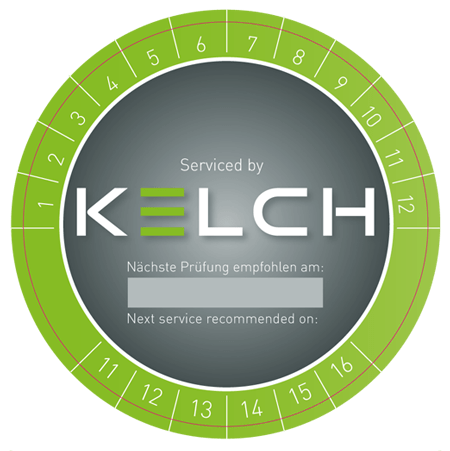 After purchasing your device, we ensure you can enjoy your device for a long time.
Every KELCH device is checked and tested thoroughly before delivery.
Every KELCH device receives a KELCH seal as a personal guarantee.
Every KELCH device receives special attention after its installation, i.e. we fully take care of your device.
Regular maintenance, necessary repairs or other services are exclusively carried out by authorized KELCH service staff.
Thus as a KELCH customer you always have the assurance of a perfectly functioning device.
Regarding the guarantee we are just like our devices. We take it very precisely and seriously.
We maintain your devices!
Our maintenance programs are completely matched to your requirements. You have the choice and under certain pre-conditions also a price advantage, which is not only worth looking at but also really pays off.
The KELCH Maintenance Contract includes many advantages. You receive an exclusive 10 % discount on all spare parts orders during the period of validity of the contract.
You will find more information on this topic as well as further service offers
using the following link.
Example:
The KELCH Individual Maintenance: For all spare parts which are installed during the individual maintenance or are mentioned as a recommendation in the assembly report, you receive in the case of an order a discount of 5 %.
The KELCH Maintenance Contract: One-time costs for the maintenance of the first device including travelling costs.