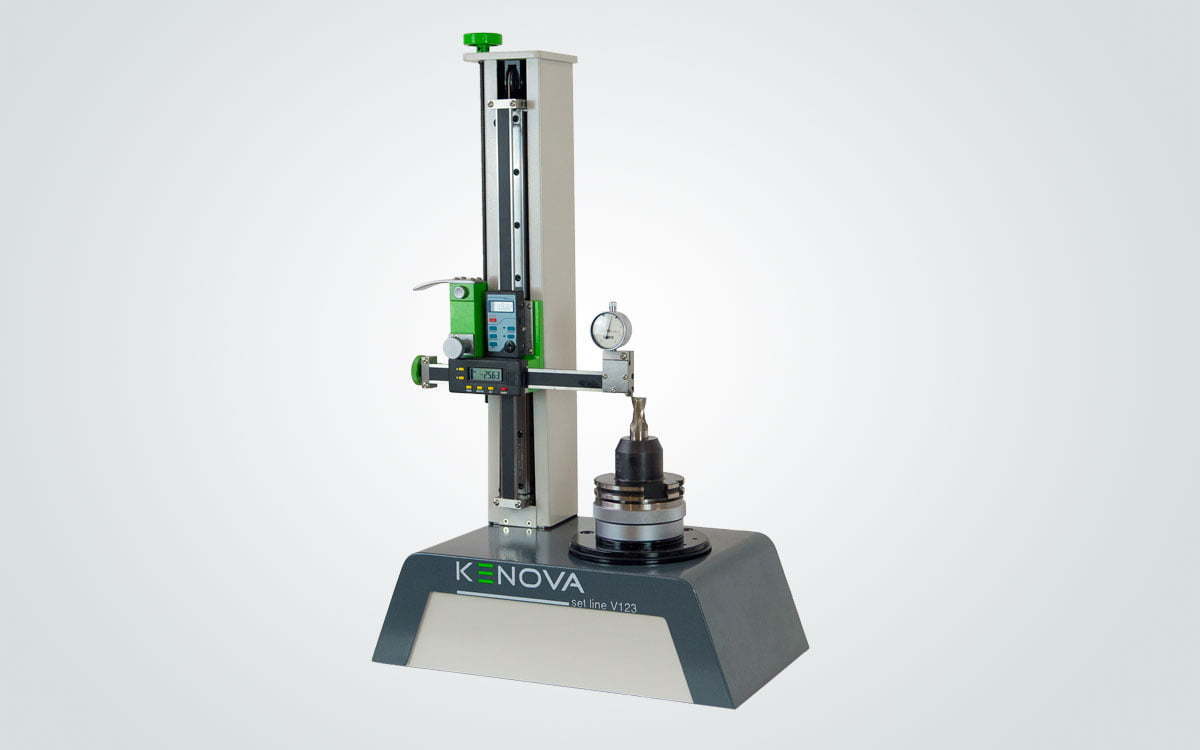 31.03.2017 / KENOVA set line V123 – Press release
30. March 2017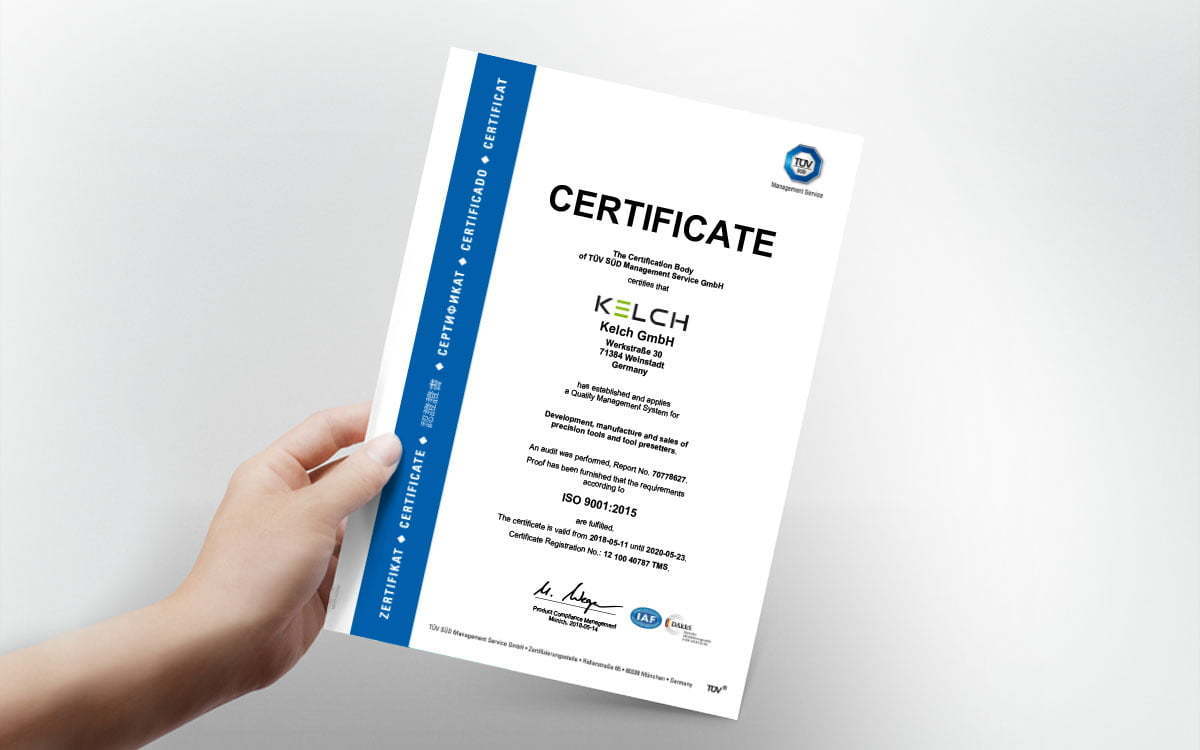 New Certificate
11. May 2017
KELCH KENOVA set line V6: Premium quality tool presetting
Industrie 4.0 standard
31st Control – International trade fair for quality assurance from 9 to 12 May 2017 in Stuttgart: Hall 4, Stand 4514
Weinstadt, 10.04.2017. Kelch GmbH, which specialises in peripherals and services for manufacturers and users of machine tools for cutting processes, will be launching the latest generation of KENOVA tool presetters in March 2017. The KENOVA set line V6 range is available for various expansion stages: from manual to fully automated. Thanks to its excellent value for money design, small, mid-sized and young businesses can now afford premium quality for their tool presetting: patented systems for enhanced process reliability.
Innovative in design and technology
The KENOVA set line V6 range guarantees maximum possible process reliability through the use of patented systems, including MoDeTec, whereby the spindle inserts are automatically detected, always ensuring the right choice of zero point. The design enables even untrained personnel to quickly and precisely measure and pre-set tools. "The new V6 range has a very broad range of applications and, thanks to its modularity, is ideal for the majority of measuring and presetting tasks. What is more, it is also visually very attractive," explains Engineer Viktor Grauer, Member of the Executive Board and Head of Innovation Management at Kelch. KENOVA set line V6 is available in the following models: Manual, Manual with CNC spindle, or as a full CNC design. All models are based on an FEM-analysed and optimised grey cast iron base and can be positioned in the smallest of spaces. The spindle used is compatible with earlier Kalimat, Sirius and KENOVA series, so that the system can also be cost-effectively combined with existing tool presetters.
Operating convenience: EASY software
Users can control their KENOVA set line V6 on a clearly arranged operating screen using EASY software: the tool, adapter, measuring function and values measured on the tool are all clearly presented on a single page. When it comes to analysis, the software guides the user in easily understandable steps to the required result. The software offers many additional functions as required. Connection to Industry 4.0 systems is also possible, as is the combination of KENOVA set line V6 with CoVis, the software for simple applications. As a system supplier with over 70 years experience, Kelch also offers the option of customising the system.
Kelch GmbH, based in Weinstadt near Stuttgart, offers peripherals and services for manufacturers and users of machine tools for cutting processes. With over 100 employees, the company generates annual revenue of approx. €13 million. As a fully owned subsidiary of Harbin Measuring & Cutting Tool Group Co., Ltd. (HMCT), Harbin/China, Kelch is part of the China General Technology (Group) Holding Co., Ltd. (Genertec), Beijing. Genertec is represented in 100 countries worldwide, with 45,000 employees in 51 companies. Kelch GmbH acts as the technology centre for the international business group in Europe. KELCH develops, manufactures and markets tool holders, cleaning devices, shrinking devices, presetters as well as measuring machines and also offers tool management services.
More information at https://www.kelch.de.
Downloads:
KELCH_KENOVA_set_line_V6_EN_10042017.pdf
Image1_print.jpg
Image1_web.jpg
Image2_print.jpg
Image2_web.jpg