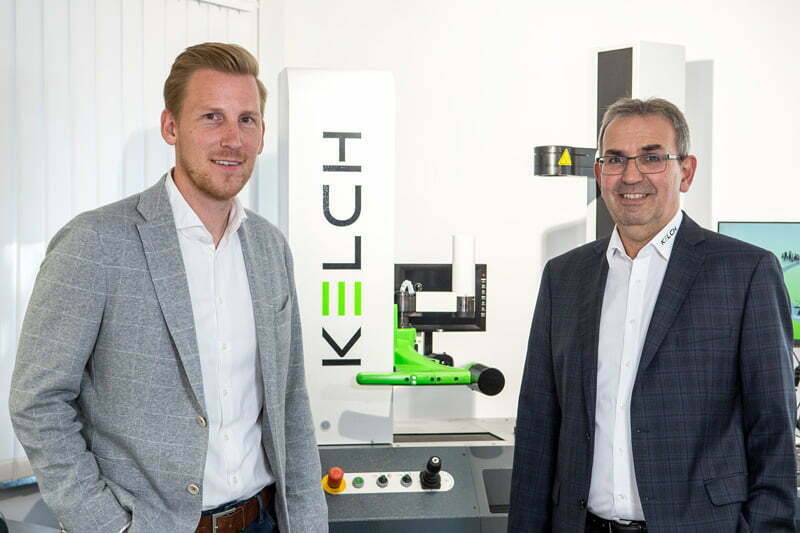 Measuring pull forces digitally with Safecontrol 4.0
18. October 2021
KELCH KENOVA set line H343
3. December 2021
KELCH launches its digital measuring system on the Tool-Arena
The system manufacturer KELCH GmbH is expanding its product range on tool-arena.com, the innovative, vendor-independent technology platform for the machining industry. From October, KELCH will be offering its Safecontrol 4.0 digital measuring system for the measurement of pull force via the platform for the first time. Its VariTUL tool transport system for tool logistics is another new product on the platform. Tool-Arena users benefit from smart technology search functions and an extensive 3D database.
The Safecontrol 4.0 digital measuring system for the measurement of pull force of machine tool spindles, extensions, reducers and zero point clamping systems contributes significantly to quality assurance. "Safecontrol 4.0 is of interest to a broad group of Tool-Arena customers. The system is simple to operate and contributes to improved machining quality and longer component and machine tool services lives," explains KELCH Sales Manager Thomas Herde. Measurements with Safecontrol 4.0 provide information on the measures to be taken when decreasing clamping force adversely affects the quality of cuts, milled edges or the surface quality. The system enables production processes to be quickly returned to normal operation. The data entered can be saved and documented by a text file, app or QR code. Users need only one base unit for all taper interfaces and machines with a clamping force of 0-100 kN, which is designed for all adapters.
VariTUL for successful tool logistics
The KELCH VariTUL tool logistics system is now also being sold through the Tool-Arena. The system includes tool transport trolleys and storage systems, in various expansion stages, coupled with individual accessories. The product group comprises VariTUL trolleys with a load capacity of 250 kg and the Tulmobil tool transport trolley with a load capacity of 300 to 600 kg. "The VariTUL series is currently the only solution on the market that provides for portable storage on several levels," reports Thomas Herde. The KELCH Sales Manager welcomes the intelligent add-on services in the Tool-Arena: "Customers looking for additional products to complement KELCH precision tools will find the right products here. The large range makes product selection clear and efficient," explains Niklas Vogt, Managing Director of Tool-Arena, continuing: "Our algorithm means that the platform identifies the right components and suggests them to the customer. This makes their search easier and saves time." KELCH is offering a 10% discount at the Tool-Arena from 18th October to 31st January 2022 to mark the launch of the Safecontrol 4.0 digital measuring system and the VariTUL-tool transport trolleys on the platform. The promotion applies to the entire KELCH range.
Downloads:
KELCH_ToolArena_EN_22102021.pdf
Image1_print
Image1_web
Image2_print
Image2_web
Image3_print
Image3_web
Image4_print
Image4_web