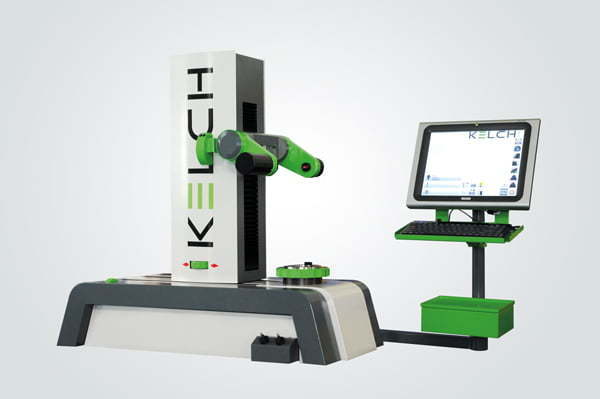 19.08.2015 / KENOVA set line V366 – press realease
19. August 2015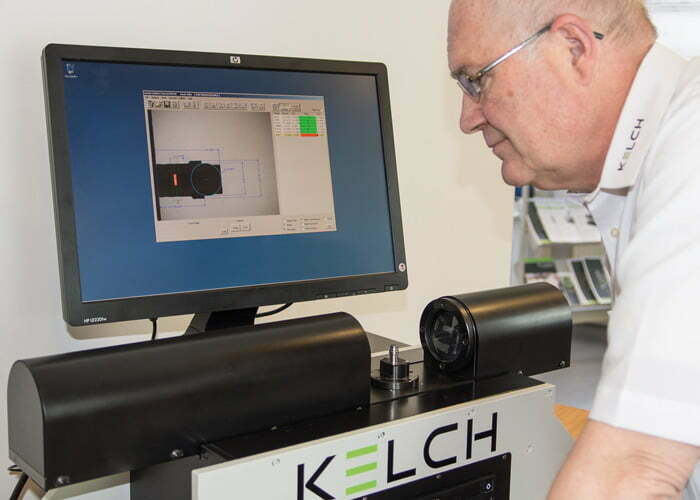 09.02.2016 / KENOVA measure line VHE/VC
9. February 2016
Impressive update enables fully networked production systems
"kOne Premium" is the software of choice for rotating workpiece measurement
(30th Control – International Trade Fair for Quality Assurance, Stuttgart 26 – 29 April 2016, Hall 1, Stand number 1128)
Weinstadt, 05.02.2016. New higher-performance functions for the proven "kOne premium" software. KENOVA measure line V9 premium workpiece measurement system from Kelch GmbH is now state of the art. Optional equipment accessories also enable more complex measuring procedures. The device is also user-friendly and environmentally sustainable.
The updating of the "kOne premium" software provides a number of exciting innovations. Users can easily create the measuring programs, with no need for programming knowledge. A further key feature is the fact that the entire system offers a range of popular communication protocols and data interfaces (Profibus, ProfiNet, Ethernet), ensuring that it can be integrated into networked production systems. As a result, Kelch systems communicate with PLC or QA monitoring systems, such as the peer-to-peer links in robots integrated in an inline production process.
The modern system software permits integration into an automated process, for instance one in which robots load the measuring system. The measurement data is automatically recorded and transmitted enabling settings in upstream production machines to be automatically corrected if the software detects that tolerances have been exceeded.
The modular and expandable software design enables varied and customised solutions to be developed in conjunction with a variety of different sensors.
KENOVA measure line V9 measures rotating workpieces with high precision
The system measures rotationally symmetrical parts as they rotate. The geometry of rings, shafts and cones etc. up to a diameter of 1,000 mm and a weight of up to 150 kg can now be measured. There is also an option of producing customised solutions for further workpiece geometries. A measuring run generally takes only a few seconds, with the system taking 60 images per second and simultaneously evaluating them. For example, the accuracy of a concentricity measurement is approximately 2 micrometres.
The unit is equipped as standard with a high-resolution camera. A laser scanner can optionally be integrated to enable complex measuring processes. The camera and laser technology enables users to check rotationally symmetrical workpieces with high precision for dimensional compliance, as well as more complex parts with three-dimensional geometries. The system can also incorporate various different signalling sensors, such as confocal chromatographic sensor systems.
Top features: easy-to-use and environmentally-friendly
The premium KENOVA measure line V9, like all units in the "KENOVA measure line" range, is easy and intuitive to operate. The traffic light colours on the screen also display tolerance and intervention limits. Users can trace back the measurement results on a corresponding log, which can also be printed out. The readings can also be automatically transmitted to a computer-aided quality management system if required.
The use of mineral cast composite for the base body of the unit makes this a very high-quality unit. High vibration damping prevents disruptive influences from the shop floor. The unit's considerable thermal inertia prevents inaccuracies caused by temperature variations. This material enables 40% energy savings, derived from the use of the cold casting process in its production, compared with conventional aluminium and grey cast iron processes. A further key feature is that the material is easy to recycle, for instance in road construction.
More information at https://www.kelch.de.
Downloads:
KELCH_kOne_Premium_0502016.pdf
Image1_KENOVA_measure_line_V9_kOne_Premium_72dpi.jpg
Image2_KENOVA_measure_line_V9_Werkstueckwechsel_72dpi.jpg
Image1_KENOVA_measure_line_V9_kOne_Premium_300dpi.jpg
Image2_KENOVA_measure_line_V9_Werkstueckwechsel_300dpi.jpg