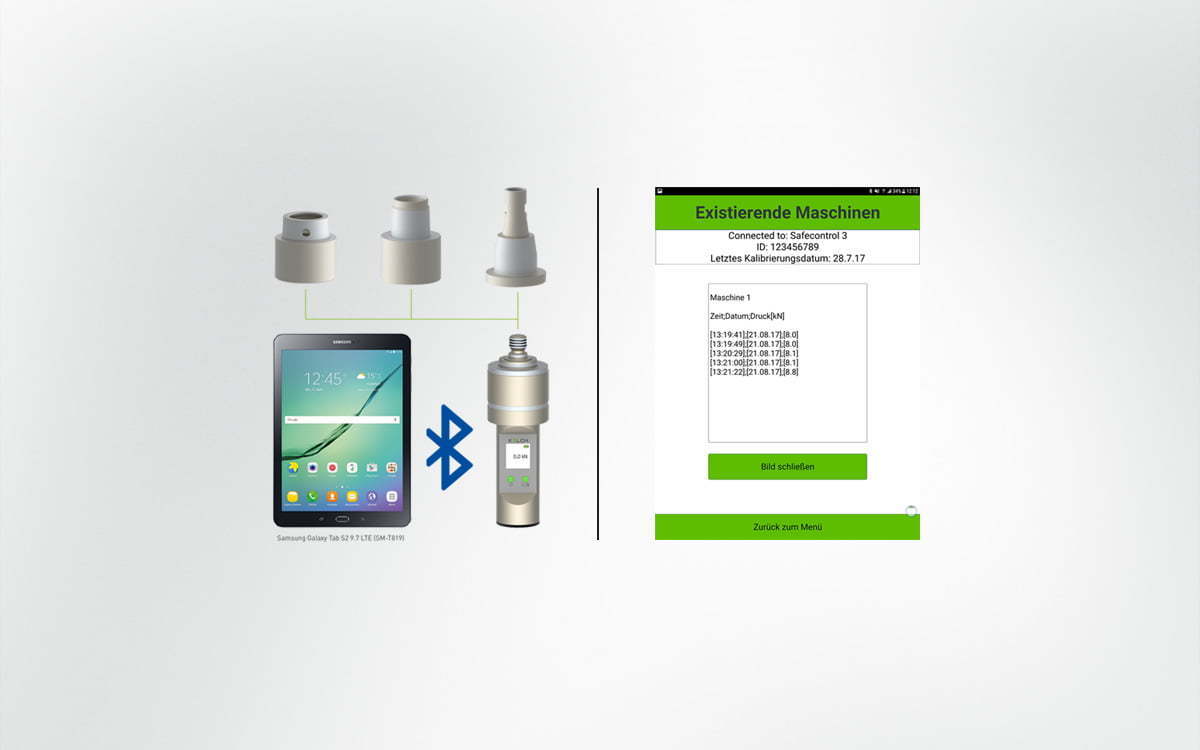 25.08.2017 / Safecontrol III – Press release
25. August 2017
Shrinking with precision
25. June 2018
Now available to buy: KELCH Safecontrol 4.0
Separate app provides additional new features
Greater flexibility and process reliability
Weinstadt, 17 April 2018 – KELCH GmbH, the system supplier, is launching the latest generation of Safecontrol 4.0 for machine tools in the 2nd quarter of 2018. The proven system for measuring the pull force of machine tool spindles has been fully revised and now offers users maximum flexibility with its own app. Further features include maximum process reliability combined with ease of use and an ergonomic product design.
The latest generation, Safecontrol 4.0, was created based on KELCH developers' close working relationship with industry and the experiences gained from a number of customer projects. KELCH's force sensing bar covers a measuring range of 2-100 kN with a measuring deviation of only 0.5% of the upper range value, corresponding to a measuring inaccuracy of 0.5 kN: properties that make Safecontrol 4.0 a globally unique system. "Safecontrol 4.0 is the perfect measuring system for all customers with machine tools. To make operation even more ergonomic, we have developed an app that communicates with the base unit. Thanks to unique identification by QR code, Safecontrol 4.0 offers absolute process reliability," explains Viktor Grauer (B. Eng), member of the Executive Board and Head of Innovation Management at KELCH.
3D position orientation
Users of Safecontrol 4.0 conveniently read off the pull force and device status on an LCD TFT display with LED background lighting. And KELCH has also considered improved ergonomics: as machine spindles can be placed in different positions, the force sensing bar sometimes has to be clamped upside down. The 3D position orientation of the device comes into its own in these cases so that the value can nevertheless be ergonomically read off – no more need to awkwardly twist your neck. Many different taper sizes can be connected to the base unit by a thread, opening up a wide range of uses. Users can also document and archive the measurements using an internal memory and then read them off on a PC. No more need for manual and error-prone writing of the measured values, saving valuable working time.
QR code for greater process reliability
A further bonus of Safecontrol 4.0 is the option to create your own machinery layout and identify it using a mobile device and a separate app. Only one QR code is needed for each spindle. This code is scanned by the camera of a smartphone or tablet and assigned to a machine spindle. Once assigned, the user only needs to scan the QR code at the start of the measuring process. The associated machine is automatically selected and the system is ready for the measurement. The measured values for each spindle within a certain period can either be displayed in a table or as a graphic in the app. A further feature: the measurement can be saved as a log in PDF format and immediately printed, thanks to a connection to a Bluetooth-enabled printer. Safecontrol 4.0 also saves time, even without using a mobile device: the measurement at the force sensing bar can be stored in the internal memory and conveniently read off by USB at the PC workstation. A time and date stamp enables it to be assigned to the machine measured, once again guaranteeing paperless and convenient processes.
Kelch GmbH, based in Weinstadt near Stuttgart, offers peripherals and services for manufacturers and users of machine tools for cutting processes. With over 100 employees, the company generates annual revenue of approx. €13 million. As a fully owned subsidiary of Harbin Measuring & Cutting Tool Group Co., Ltd. (HMCT), Harbin/China, Kelch is part of the China General Technology (Group) Holding Co., Ltd. (Genertec), Beijing. Genertec is represented in 100 countries worldwide, with 45,000 employees in 51 companies. Kelch GmbH acts as the technology centre for the international business group in Europe. KELCH develops, manufactures and markets tool holders, cleaning devices, shrinking devices, presetters as well as measuring machines and also offers tool management services.
More information at https://www.kelch.de.
Downloads:
KELCH_Safecontrol_4.0_17042018_EN
Image1_web
Image1_print
Image2_web
Image2_ print
Image3_web
Image3_print