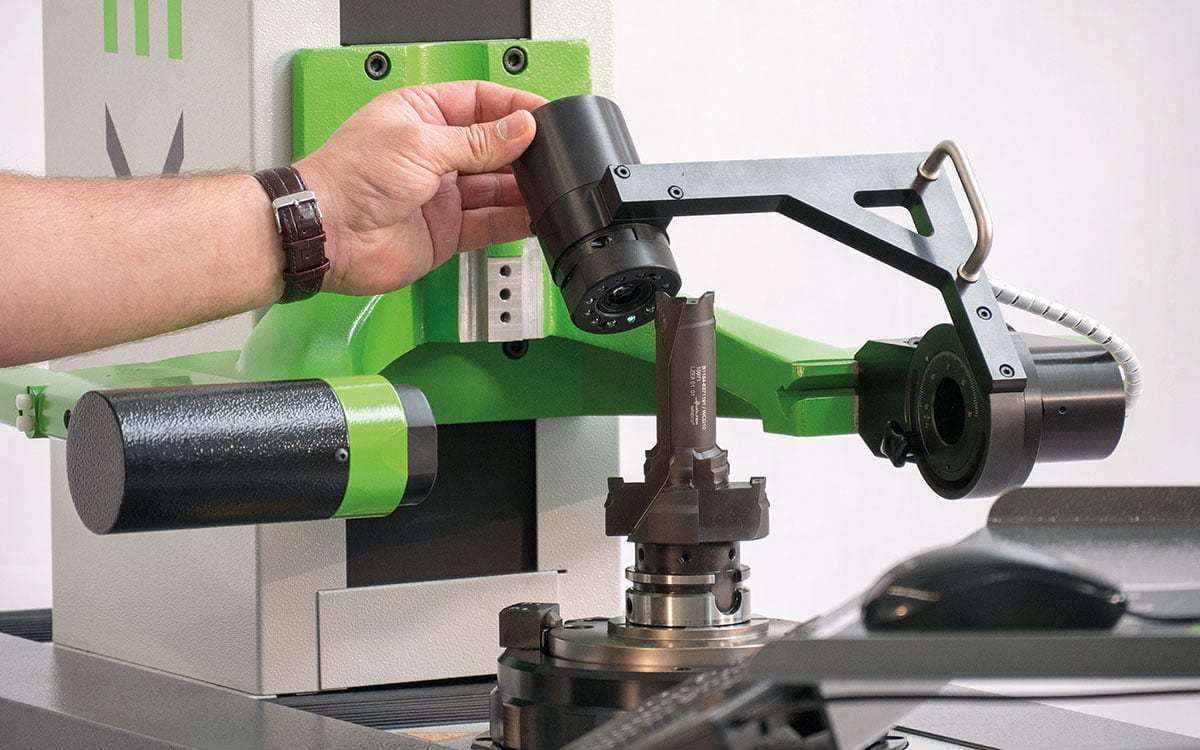 28.06.2018 / KENOVA set line V6 mit TDM – Press release
28. June 2018
20.03.2019 / KELCH QR-Code technology – Press release
20. March 2019
KELCH KENOVA set line V3 launch at the AMB
Bench-mounted unit for tool presetting with options for Smart Factory and IoT
KELCH at the AMB from 18 to 22.9.2018 in Stuttgart: Hall 1 / Stand 1E72
Weinstadt, 03.09.2018. Kelch GmbH, known for the world's widest selection of vertical tool presetters, will be showcasing its new KENOVA set line V3 range to a wider audience for the first time at this year's AMB, the international exhibition for metalworking. The V3 range is KELCH's bench-mounted addition to the KENOVA set line range of tool presetters, which offers a perfect entry-level unit for professional tool presetting and includes a wide range of options. The product design is systematically tailored to Industry 4.0 standards and blends seamlessly into the modern Smart Factory. The range features the latest version of kOne software and boasts the "TeamViewer IoT" IoT solution. Following its launch at AMB, the KENOVA set line V3 will be available to buy internationally from December 2018. 
"The new KENOVA set line V3 range stands out on account of its compact construction and attractively fresh design, which we have based on the design of the entire KENOVA set line range. Even the fully CNC version can be positioned on a simple work bench without the need for a base cabinet. The range offers a high level of investment certainty, thanks to its modularity and upgradability," explains Viktor Grauer (B. Eng), member of the Executive Board and Head of Innovation Management at KELCH.
Stable design – easy to operate
The completely redesigned range features a simplified basic construction with enhanced stability. Boasting high-quality components, this range includes extremely precise, thermally stable tool presetters for use in production even under demanding operating conditions. Manufactured in solid FEM-optimised grey cast iron, the software for the new range stands out on account of its easily understandable menus and ease of operation, even without comprehensive prior knowledge. With a measuring distance of up to 600 mm on the X-axis and up to 800 mm on the Z-axis, the KENOVA set line V3 provides a high degree of flexibility with the tool systems to be measured. The spindles are manufactured in-house by KELCH to guarantee a constantly high quality of core components. The in-house designed UWS IV SK50 spindle accommodates tools weighing up to 50 kg with ease.
"All-rounder" in the entry-level segment
Apart from their basic functions, KENOVA set line V3 units are compatible with a large number of useful additional elements to extend their range of functions, as required. The options range from a fully manual unit, an autofocus version with a driven spindle to a fully automatic CNC version for fully operator-independent tool presetting and measurement. For instance, a mechanical tool clamp can be integrated into the standardised UWS IV SK50 spindle, which supports maximum possible repeatability when inserting the tools into the spindle.
KELCH IoT for greater efficiency and fail-safe operation
The KENOVA set line V3 is designed for fast and optimum customer support. KELCH therefore now also offers the option of monitoring the performance and status of the tool presetters and therefore offers customers a high level of performance, availability and reliability. KELCH adapted the "TeamViewer IoT" IoT solution[i] in conjunction with the innovative TeamViewer software company, so that the tool presetters appear centrally on a single dashboard. The status and various parameters of each unit are displayed. Should an error threaten to occur, possibly due to the room temperature being too high or PC performance problems, this is immediately detected by KELCH Service and the customer is proactively contacted. This predictive and preventative maintenance approach enables unplanned failures to be reduced to a minimum. The pre-installed remote maintenance software can also access the unit directly, even if it is not integrated in the customer's network, enabling faster support without long travel times.
Easy or kOne software
KELCH offers both its proven Easy software and alternatively its recently developed kOne software as software options for the KENOVA set line V3 range. Thanks to kOne software, the KENOVA set line V3 enables even untrained personnel to quickly and precisely measure the tools. Users are able to create their own measuring programs without any programming knowledge. In addition, the new range is systematically designed to Industry 4.0 standards and blends perfectly into the Smart Factory with options, including simple file transfer, direct database connection, web services, RFID technology and QR codes. The unit is integrated into networked production systems and allows the KELCH system to communicate with external applications, including tool management systems, CAM systems, machine tools, issuing systems or entire master control systems. Customised adaptations are possible, on request, thanks to the modular structure of the software. If existing customers opt for the known Easy software, users can also immediately use and work with the KENOVA set line V3. The "ToolExchange" software option, for instance, allows a unit to be connected to an existing unit and reliably synchronised using Easy software, enabling a new unit to have the same data within a short period of time, with no need to re-enter data.
One-stop service and accessories
As a system supplier with over 75 years of experience in the industry, KELCH also offers made-to-measure adaptations for this new KENOVA range tailored specifically to customer's requirements. At the same time, complementary products and services are available for the machine tool, which can be systematically configured to the KENOVA set line range. They include presetters and measuring equipment, as well as tool holders, products for optimum workshop logistics, shrink-fit equipment and KELCH Smart Factory Services advice to optimise production processes.
Kelch GmbH, based in Weinstadt near Stuttgart, offers peripherals and services for manufacturers and users of machine tools for cutting processes. With over 100 employees, the company generates annual revenue of approx. €13 million. As a fully owned subsidiary of Harbin Measuring & Cutting Tool Group Co., Ltd. (HMCT), Harbin/China, Kelch is part of the China General Technology (Group) Holding Co., Ltd. (Genertec), Beijing. Genertec is represented in 100 countries worldwide, with 45,000 employees in 51 companies. Kelch GmbH acts as the technology centre for the international business group in Europe. KELCH develops, manufactures and markets tool holders, cleaning devices, shrinking devices, presetters as well as measuring machines and also offers tool management services.
More information at https://www.kelch.de.
[i] www.teamviewer.com/de/iot
Downloads:
KELCH_KENOVA_set_line_V3_03092018
Image1_print
Image1_web
Image2_print
Image2_ web
Image3_print
Image3_web
Image4_print
Image4_web
Image5_print
Image5_web