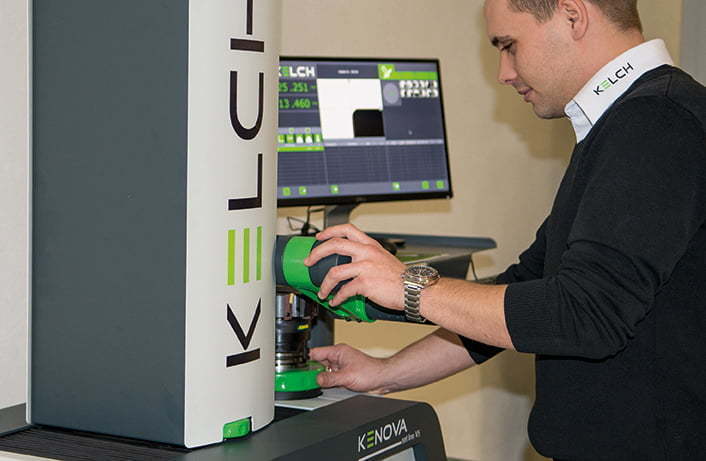 25.02.2015 / KENOVA set line V5
25. February 2015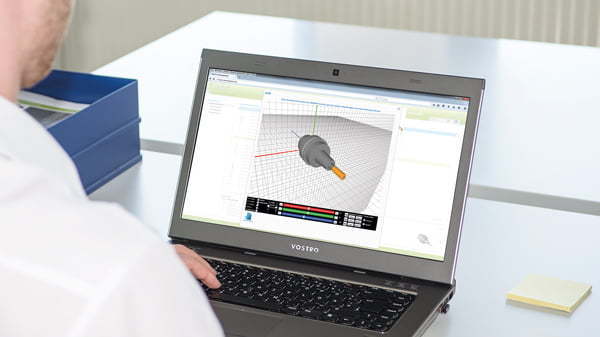 29.07.2015 / Concentration on core business
29. July 2015
Kelch premium workpiece measuring system measures workpieces highly precisely when rotating:
KENOVA measure line V9
(29th Control – International Trade Fair for Quality Assurance, Stuttgart 5-8 May 2015 Hall 1, Stand number 1128)
The KENOVA measure line V9 premium workpiece measuring system, manufactured by Kelch GmbH, based in Weinstadt near Stuttgart, is fitted with new "kOne premium" software, with which users can produce their own measuring programs without the need for special programming knowledge. The software supports all popular communication protocols and data interfaces
(Profibus, Profinet, Ethernet etc.) enabling integration into higher-level systems, such as Programmable Logic Controllers (PLC), and thereby facilitating manifold different customised applications.
The system measures rotationally symmetrical parts as they rotate. Rings, shafts and cones etc. up to a diameter of 1,000 mm and a weight of up to 150 kg can now be measured as they rotate. Customised solutions for additional workpiece geometries can also be provided. A measuring run generally takes around twenty seconds, but can also be reduced to up to one second. The system takes 60 images per second and simultaneously evaluates them.
In addition to the standard CCD camera, the system can also be fitted with a laser triangulation sensor, enabling even more complex measuring processes. This laser technology means that rotationally symmetrical workpieces can be measured to ensure compliance with dimensions, but even more complex parts with 3-dimensional geometries can be measured. The system can also incorporate various different signalling sensors, such as white light chromatographic sensors.
The modern system software permits integration into an automated process in which robots can load the measuring system. The measurement data is automatically recorded and transmitted enabling settings in upstream production machines to be automatically corrected if tolerances are exceeded.
The KENOVA measure line V9, like all units in the "KENOVA measure line" range, is easy and intuitive to operate. Tolerance and control limits are shown in colour on a screen. A corresponding log can also be produced and printed. The readings can also be automatically transmitted to the computer-aided quality management system if required.
The use of cast mineral composite for the body of the unit gives the system improved physical characteristics. Improved vibration damping prevents disruptive influences from production plants. The unit's considerable thermal inertia prevents inaccuracies caused by temperature variations. The cold casting process used in production saves around 40% energy compared with conventional aluminium and grey cast iron processes. The material can subsequently be recycled, for instance in road construction.
Kelch GmbH, based in Weinstadt near Stuttgart, offers peripherals and services for manufacturers and users of machine tools for cutting processes. With over 100 employees, the company generates annual revenue of approx. €13 million. As a 100%-owned subsidiary of Harbin Measuring & Cutting Tool Group Co., Ltd. (HMCT), Harbin/China, Kelch belongs to China General Technology (Group) Holding Co., Ltd. (Genertec), Beijing. Genertec is represented in 100 countries worldwide, with 45,000 employees in 51 companies. Kelch GmbH acts as the technology centre for the international business group in Europe. Kelch develops, manufactures and markets tool holders, cleaning devices, shrinking devices, presetters, as well as measuring machines, and also offers tool management services.
Further information at https://www.kelch.de.
Downloads:
KELCH_KENOVA_measure_line_V9_04032015.pdf
Bild1_KENOVA_measure_line_V9_kOne_Premium_72dpi.jpg
Bild2_KENOVA_measure_line_V9_Werkstueckwechsel_72dpi.jpg
Bild1_KENOVA_measure_line_V9_kOne_Premium_300dpi.jpg
Bild2_KENOVA_measure_line_V9_Werkstueckwechsel_300dpi.jpg