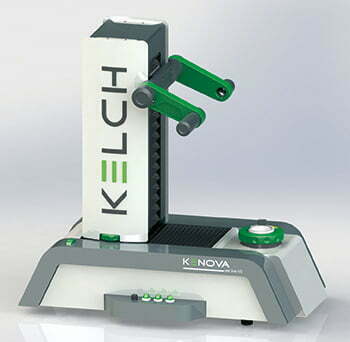 28.07.2014 / KENOVA set line V5
28. December 2014
Kelch expands its range of CoolStream tool holders – more chucks with coolant channel bores available as standard catalogue items
Kelch GmbH, Weinstadt near Stuttgart, now offers a wider range of tool holders with coolant channel bores ("CoolStream") as a series production item direct from the catalogue. That means lower prices and quicker delivery for the customer rather than depending on specials. This is in particular valid for shrink holders with A—dimension 130 mm, but also for standard SK 40 and HSK 63 shrink holders. HSK 63 Weldon holders will likewise be available from stock in the Coolstream version.
"The demand for CoolStream holders has increased steadily in recent years" says Helmut Frotscher, Managing Director at Kelch GmbH. "The coolant channel bore procedure is being used for more and more applications. That makes it worthwhile to add further products to our standard offering. This saves the customer from expensive and time-consuming custom-made tools".
The CoolStream technology is used in tool holders for external cooling of the cutting edge of machining tools. This makes the cooling and chip removal more efficient, especially for milling and turning, which in turn improves the dimensional accuracy of the workpiece and the cutting tool life. The resulting increased process reliability leads to the growing success of the coolant channel holes compared to the externally guided coolant supply.
Kelch GmbH, in Weinstadt near Stuttgart, offers peripherals and services for manufacturers and users of machine tools. With over 100 employees, the company generates annual revenue of approx. 13 million Euro. As a 100%-owned subsidiary of Harbin Measuring & Cutting Tool Group Co., Ltd. (HMCT), Harbin/China, Kelch belongs to China General Technology (Group) Holding Co., Ltd. (Genertec), Beijing. Genertec is represented in 100 countries worldwide, with 45,000 employees in 51 companies. Kelch GmbH acts as the technology center of the international business group in Europe. Kelch develops, manufactures and markets tool holders, cleaning devices, shrink devices, presetters, as well as measuring machines and tool management services.
Further information at https://www.kelch.de .
Downloads:
KELCH_CooStream_15082014.pdf
Bild1_KELCH_Coolstream_72dpi.jpg
Bild1_KELCH_Coolstream_300dpi.jpg