20.03.2019 / KELCH QR-Code technology – Press release
20. March 2019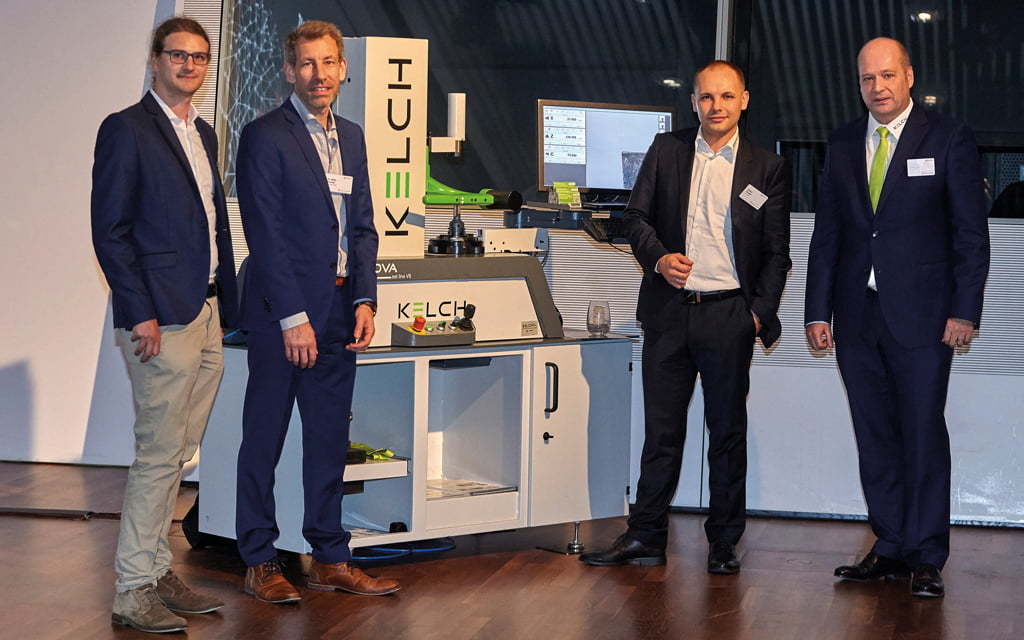 22.07.2019 / KELCH IoT achieves cloud-based process control – Press release
22. July 2019
KELCH receives delegation from China
Chinese state-owned group Genertec visits Weinstadt
Factory tour and discussions for the international top executives
Weinstadt, 1st April 2019 – KELCH GmbH, the system supplier, received an international delegation of the China General Technology Holding Co., Ltd. (Genertec), at the end of march. This influential state-owned Chinese conglomerate includes Harbin Measuring & Cutting Tool Group Co., Ltd. (HMCT), the parent company of KELCH, making KELCH a sub-subsidiary and a "grandchild" of Genertec. The objective of this information trip of the international top executives represents a review of the industry standards and of the most important players in Germany and Europe. KELCH has already been the technology and distribution centre of HMCT in Europe and develops innovations according to Industry 4.0 standards for the Genertec group at their research and development centre.
On the occasion of his visit at KELCH in Weinstadt, Mr. Lu Yimin, General Manager of China General Technology Holding Co., Ltd. in Beijing, said: "KELCH is one of the core developers of key technologies for tool holders, tool presetters as well as measuring equipment and gauges, and consequently develops new Industry 4.0 standards. At the German KELCH research and development centre, visionary solutions are created, which have already been brought to the Chinese markets by Genertec.
Frank Wildbrett, Managing Director of KELCH GmbH, stated: "We are absolutely delighted about the personal exchange with the top management and the internationally responsible representatives from our parent company. As technology and distribution centre of Harbin Measuring & Cutting Tool Group HMCT, KELCH has been successfully serving the international clientele of China General Technology Holding (Genertec), the now parent company of HMCT, for many years. The participants of the delegation include responsible representatives of Genertec in China, Genertec Europe Temax GmbH, Genertec Italia srl as well as of the China Textile Academy and the Chinese Academy of Engineering.
Strategic position
As the largest Chinese conglomerate with products and services for a wide range of industries, Genertec has been mainly focussed on the Chinese market so far. The HMCT Group holds a leading position in the Chinese tool industry as specialist for measuring and cutting tools. From the very beginning, Genertec and HMCT regarded the investment in KELCH as strategic positioning for opening up further options in Europe and the USA together with KELCH as a pioneer in the field of tools and tool presetters. Since its foundation 75 years ago, the former family-owned business has become a global operator with worldwide success as system provider for manufacturers and users of machine tools for cutting processes. Under the umbrella of the HMCT Group, the KELCH experts develop, manufacture and distribute innovative solutions according to the "Made in Germany" standards for customers around the world. The clientele includes numerous major market leaders who require leading standards for their tool holders, tool presetters and measuring technologies. With solutions made by KELCH, the entire production run becomes Industry 4.0-enabled, providing manufacturing companies with all required components for optimising production processes from a single source. Several large-scale development projects with well-known customers from industries such as automotive, aerospace and mechanical engineering are proof of the highly specialised development and manufacturing expertise of KELCH.
Industry 4.0 for China and the world
The Chinese state-owned group Genertec has more than 1,000 companies, 220 of them in mechanical engineering alone. With regard to setting up the agenda "China 2025", the group has its own Industry 4.0 line of business which will include more and more international technology leaders as part of the continuous expansion.
Already now, the KELCH Smart Factory Services provide manufacturers with customisable systems which enable Smart Factory with Industry 4.0-level standards. This includes situation analysis, planning and project management, system integration and process implementation, as well as the digitalisation of all processing work in production. New to the product range since the beginning of 2019: Safecontrol 4.0, a digital measuring system for the pull of tool machine spindles, extensions, reducers and zero point clamping systems. Safecontrol 4.0 ensures a long service life of components and tool machines and protects companies from increased tool and machine wear. Other benefits include improved machining quality, reduced reject rates and down times, as well as improved safety and process reliability. Safecontrol 4.0 also improves the company-internal flexibility via an app which communicates with the base unit. This enables managing of the measuring values via mobile devices such as the smartphone. Another novelty is KELCH QR – a solution for small and medium-sized companies, which ensures an integrated and process-reliable tool identification while transmitting the tool data to the tool machine.
Kelch GmbH, based in Weinstadt near Stuttgart, offers peripherals and services for manufacturers and users of machine tools for cutting processes. With over 100 employees, the company generates annual revenue of approx. €13 million. As a fully owned subsidiary of Harbin Measuring & Cutting Tool Group Co., Ltd. (HMCT), Harbin/China, Kelch is part of the China General Technology (Group) Holding Co., Ltd. (Genertec), Beijing. Genertec is represented in 100 countries worldwide, with 45,000 employees in 51 companies. Kelch GmbH acts as the technology centre for the international business group in Europe. KELCH develops, manufactures and markets tool holders, cleaning devices, shrinking devices, presetters as well as measuring machines and also offers tool management services.
More information at https://www.kelch.de.
Downloads:
KELCH_Besuch_Genertec_EN_01042019.pdf
Image1_print
Image1_web
Image2_print
Image2_ web
Image3_print
Image3_ web